Miller Industrial Welders Authorized Repair and Service Center
If your business depends on your Miller Welder - Trust us to get it up and running.​
As a Factory Authorized Service Center, we have the knowledge and tools required to fix your welder quickly and efficiently.
Our Repair Evaluation Process:
Fill out the form or call us at (833) 539-8596 to being the process and receive shipping instructions
Once we receive your welder, we will perform a thorough evaluation to determine the repair cost
We will issue you a repair quote detailing costs, timelines and terms and conditions
You will have the opportunity to approve the repairs, or request the welder be shipped back to you at your cost
Thank you
Thank you for contacting TIE-FANUCWORLD. We are diligently working on your request and will respond shortly.
If you need to speak with one of our friendly and knowledgeable customer service representatives, please call (877) 876-3994, and we will be happy to assist you.
Our hours of operation are:Monday - Friday, 7:00 am - 7:00 pm Central TimeSaturday, 8:00 am - 12:00 pm Central Time.
We appreciate and value your business.
In a hurry?
The Part you are looking for is for sale online. Click the button below to buy now.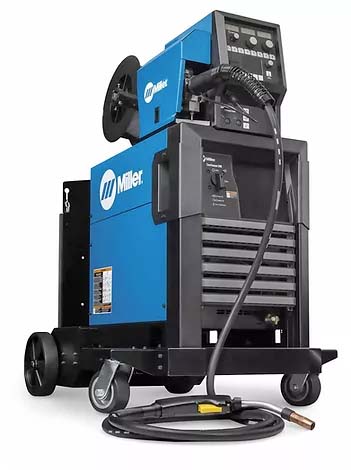 We repair the following Miller welders and equipment:
Miller MIG Welders
Miller TIG Welders
Miller Multi-Process Welders
Miller Stick & Plasma Cutter Models
All Miller welder repairs are backed by a 1-Year In-Service Warranty. Trust TIE for all of your industrial automation repairs including electronic drives, PCBs, motors, monitors, and welders. Call us today for a FREE no obligation repair evaluation.
Recently Repaired Models
AlumaFeed Synergic
Bobcat 225
CP250TS
CP302
Deltaweld 302
Deltaweld 452
Deltaweld 652
Dimension 452 Multiprocess
Dimension 650 Multiprocess
Dimension 652 Multiprocess
Diversion 165 TIG
Diversion 180 TIG
Dynasty 210 DX TIG
Dynasty 210 TIG
Dynasty 280
Dynasty 400
Dynasty 800
Invision 352
Invision 450
Maxstar 161
Maxstar 210
Maxstar 280
Maxstar 400
Maxstar 800
MILLERMATIC 141
MILLERMATIC 211
MILLERMATIC 215
MILLERMATIC 252
Multimatic 200
Multimatic 200 Multiprocess
Multimatic 215 Multiprocess
Multimatic 215 Multi-process
PipeWorx FieldPro System
PipeWorx Welding System
Spectrum 375 Xtreme
Spectrum 625 Xtreme
Spectrum 875 Plasma
Syncrowave 210
Syncrowave 250 DX
Syncrowave 350 LX
Trailblazer 325
XMT 304 FieldPro System
XMT 350 FieldPro System
XMT 350 Multiprocess System
XMT 450 FieldPro System